3 strategies to Improve KPIs of Your Email Marketing Strategy
Email subscribers list is an asset to your business. But, many entrepreneurs don't pay attention to this. Thinking
Is Email Marketing effective? Is it Dead?
How Email marketing will boost my sales or revenue?
How can it help my business? Etc.
So the answer to these questions let's start with the below Data collected from Statista which is as under.
17.9 Billion US Dollar revenue is projected from Email marketing by the year 2027.
Yes, you read it Right!
According to research conducted by Statista,"In 2020, the global email marketing market was valued at 7.5 billion U.S. dollars and the source projected that the figure would increase to 17.9 billion by 2027. The compound annual growth rate (CAGR) for that period is expected to amount to 13.3 percent".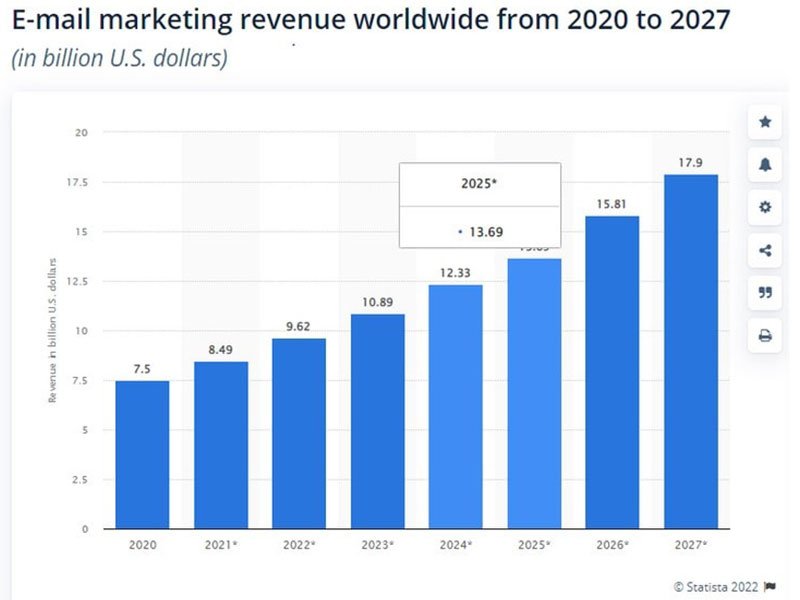 That means Email marketing is effective and not dead. Most importantly it does wonders when implemented correctly.
Below are 3 strategies that will help you succeed in Email marketing and improve your KPIs.
1. Email Marketing Plan:
Having a plan always helps you stay ahead in the face of competition and keeps you top in the mind of your prospective buyer. Marketing is not to sell the prospect at the moment. Instead, marketing makes your prospective buyer remember your brand or business and sell when he is ready to buy. You will be on top of his mind while decision-making.
The same is the purpose of Email marketing. It helps you to keep your subscribers connected with your brand or business. Planning can help you do this without wasting any time thinking about the subsequent emails or an email newsletter to send How to collect their Emails, Etc.
A well-structured plan contains:
Purpose: what do you ultimately want your subscribers to do? Is it a newsletter, a marketing campaign, or do you want to generate sales? Etc.
Determine your target audience: The freebie you offer and your target audience are linked. They assist you in deciding what content to provide them with, and it also makes it far too simple to set Goals based on those. It is critical to have a target audience. If you sell baby products to young girls, everything becomes a disaster. Instead, your target audience should have been mothers aged 18 to 30, living in XYZ country, educated, and so on. The specificity of your target audience has a direct impact on the clarity and specificity of your content.
Goals: How will you know how far you have come without any destination in mind? The same goes for marketing. Once you know what you want to achieve, you will put in efforts accordingly. A SMART goal can help you achieve more than a general one. SMART stands for an acronym
S-specific
M-measurable
A-accessible
R-realistic
T-timely
Freebie: Give your subscribers a reason to subscribe to your newsletter. It could be a Lead magnet or a newsletter signup option or free training, or it could be any freebie that will help you attract your target audience.
Schedule: Timing matters. No matter what marketing platform you choose to market your products or services. Timing helps your prospective buyer to remember you and your brand. Your prospective buyer knows that this particular business or person will send something new to read or learn at this time and this day.
Content: The content of your email depends on what your purpose is. Suppose you are sending email newsletters then the content of your email will either promote your upcoming blog post or podcast. But, if your email is to sell your products or services, it might contain details about how your product or service is different from others. They may also include a proof, testimonials, or case studies proving the quality of your product or service.
Design: Having a definite and consistent design of your email creates the brand identity of your business in your prospective buyer's mind. Mobile responsive designs increase the readability of your emails. According to research conducted by Statista,"In 2020, the global mobile marketing market size was estimated, at around 11 billion U.S. dollars, and by 2030, this figure is expected to surpass 55 billion."
2. Personalisation:
Personalization is very significant in email marketing. Personalised emails are relevant emails based on the personal information of the subscriber. Here personal information could be something that the subscriber shared while signing up or, it could be based on his behaviour. Behaviour-based emails will be sent, on some behavioural triggers like abandoned cart email, reactivation email, or a very personalised birthday email. Sending personalised emails starting with or containing something like:
"Hello, John."
or
"Dear John."
Sounds way better than just saying,
Hello or Dear.
Or
If you have conducted a free webinar and in case one of your subscribers to your webinar missed it. Sending the replay of the same will inbuild a sense of personalization. A good email marketing service provider provides all these services.
It makes your subscriber feel that they are a part of your community. Also, it makes them feel valued.
According to a survey conducted by Statista, "gauging the perceptions of personalization among internet users in the United States, more than 90 percent of respondents were receiving marketing messages that were irrelevant to them in 2019. What is more, 44 percent of survey participants said they were willing to switch to brands that did personalization better."
So, the conclusion is personalization works!
Comment below the ways you do personalization in your email marketing.
3. Subject Lines:
#1st thing which gets your email read- Subject lines.
You may prefer simple subject lines. But, how do you make them read the same?
Something Like this one, "some tips on changing career."
Also, you are writing a curiosity peeking subject line that is an open-loop one something like these;
"5 reasons you must not be doing this"
Or
"You missed it" - mistakes that can cost you $$$ Dollars.
Or
A new version of the above simple one "things you must know before changing career".

So which one are you going to choose? Chances are you would prefer to click on the second one, which is the Curiosity one. Isn't it? There are many other ways like offers, freebies, scarcity, etc. You must make sure that you give them a reason to read your email instead of swiping it or deleting it.
Now comes to the Bonus part:
Bonus Tip:
Avoid being spammy:
Oops, What are you saying? How is this even possible?
It is possible and simple. Emails are considered spam based on the suspicious word pattern or frequency of words. Hence, try to avoid words that are considered spam-like emails containing special offers, discounts, offering deals, promoting explicit content, targeting human emotions, Etc.
Also, make sure that you timely update your email list by removing the inactive readers. It also helps to avoid being spammy.